VF-53 IRON ANGELS

Call sign "Firefighter"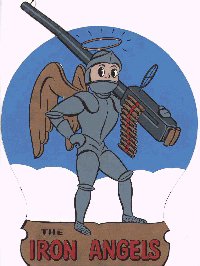 Commanding Officers


Cdr. Jack E. Davis
Cdr. Jack Carman
CDR Robair Mohrhardt
CDR Bill Gureck
CDR Paul Gillcrist
CDR Bob Weedon
CDR Dean Kaiser
CDR Paul Skarlotos
CDR Harry Blake

BRIEF HISTORY OF THE IRON ANGELS
The first squadron to sport the Iron Angels insignia was VF-14, commissioned at NAS Atlantic City in Aug 1943 and assigned to CAG-14. In Mar 1944 CAG-14 and VF-14 deployed to the Western Pacific (Westpac) embarked in USS Wasp. During that deployment the squadron, among many other accomplishments, engaged enemy aircraft in the Marianas " turkey shoot" and returned to CONUS (San Diego) in Nov 1944 with nine "Aces." VF-14 was decommissioned in Jun 1946.


While deployed in the Korean theater in Mar 1953, VF-721 was redesignated VF-141 and adopted the Iron Angels insignia. Successive deployments for VF-141 were:


DatesAircraftCarrierTheaterCAG CDR
Feb 54 - Aug 54 F2H-3 Banshee USS Randolph Med C.O.: Frank Standring
Oct 55 - Mar 56 F2H-3 Banshee USS Kearsarge WestPac Callsign: Kremlin C.O.: Wm. Weigold Jones
Jul 57 - Dec 57 F4D Skyray USS Bon Homme Richard WesPac C.O.: Dale Klahn
Jan 59 - Jul 59 F4D Skyray USS Ranger Westpac ?
Jan 60 - Dec 60 F3H Demon USS Oriskany Westpac ?
Nov 61 - May 62 F3H Demon USS Lexington Westpac ?
Feb 63 - Sep 63 F8 Crusader USS Constellation Westpac ?


(In Sep 1963 VF-141 of CAG-14 was reassigned to CAG-5 and redesignated VF-53.)
Apr 64 - Dec 64 F8 Crusader USS Ticonderoga Westpac ?
Sep 65 - May 66 F8 Crusader USS Ticonderoga Westpac ?
Jan 67 - Jul 67 F8 Crusader USS Hancock Westpac ?
Jan 68 - Oct 68 F8 Crusader USS Bon Homme Richard Westpac CDR D.B. Miller
Mar 69 - Nov 69 F8 Crusader USS Bon Homme Richard Westpac CAPT A.A. ("Shoes") Schaufelberger


(There were a couple of more deployments before VF-53 was decommissioned but I do not have the data. It was after "my time." We'll have to wait for someone to add on to this deployment schedule.)


George Wells
07 March 1998

Bonnie Dick, circa 1969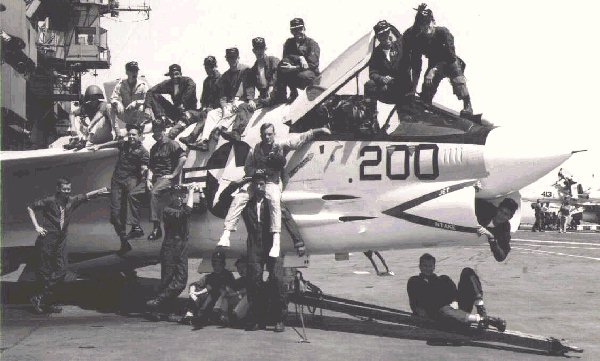 On top of the aircraft, moving from the tail towards the nose:

LTJG Butch Greenstreet (helmet), LT Russ Berry, LT Ron Lamb, LCDR J.J. Adams, WO Jerry Shields, LCDR Grumpy Lusk, CDR Dean Kaiser (XO), CDR Bob Weedon (CO), LT Tom Smisek (Alert 5)

On the deck, moving from the tail towards the nose:

LT Jerry Weber, LT Phil Harrison (sitting on the rail), LT Bill Morris (sitting on the rail), LCDR Jim Taylor, LT George Wells (under the aircraft), LT Tom Grawrock (under the aircraft), LT Morris Mansell (standing, saluting), LT Dexter Manlove (on Mansell's shoulders), LT Chuck Conrad (on the tow bar), LT Steve Russ (intake)

4 VF-53 C.O.s, Bonnie Dick's flight deck on 03 May 1969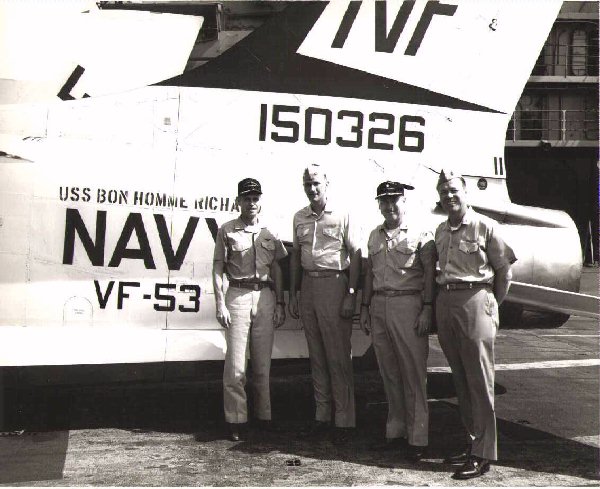 CDR Robair Mohrhardt, Bonnie Dick's XO, CDR Bill Gureck, CAG 19, CDR Harry Blake, CCD 7's Air Ops Officer, CDR Bob Weedon, CO VF-53.


Photos & info courtesy George Wells
Sorry, under construction. Your signal delta, max conserve.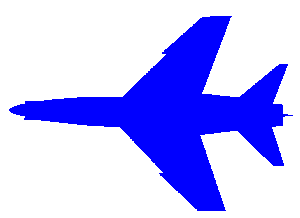 Return to Main Page